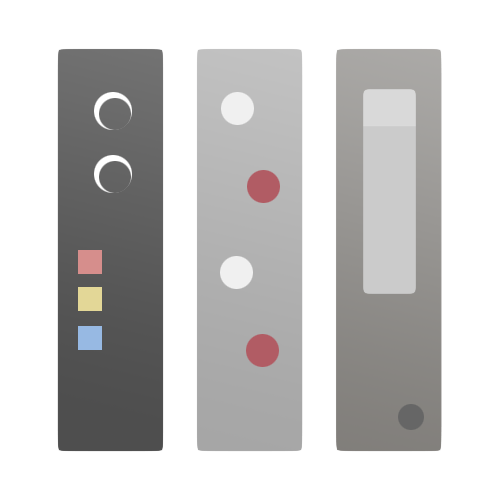 Studio Metronome
Studio Metronome provides a unique and comprehensive combination of both vintage and modern technology housed in an acoustically treated and tuned environment. Designed by renowned studio architect John Storyk, metronome is ready for all aspects of the music production process, capable of end-to-end analog or digital production workflows as well as analog/digital hybrid configurations. A team of veteran engineers are capable of consistently providing radio-ready quality products. Studio Metronome is the best case scenario for your final mixes in New England.
Recording Platforms
Studer A827 2" 24-trackrecorder w/ Dolby SR
Ampex ATR 102 1/2" 2-track recorder w/Dolby A/SR
Studer A820 1/4" 2-trackrecorder w/ Dolby A/SR
Apogee PSX100 digital converter
Alesis ML9600 CD recorder (2)
Tascam D-45 24 bit DAT recorder
Tascam C-112 MKlll cassette
Alesis HD24HX (8)
Alesis ADAT LX20
Digital Audio Workstations
Pro Tools HD3 (Macintosh-Based)
Digidesign 192 (3)
26 analog inputs
50 analog outputs
48-Ch Digital MADI/ADAT Integration
Lucid SGG 192 High-Definition Master Studio Clock
Sync
Desk Doctor ZX synchronizer for SSL computer
Lynx time code modules (2)
Digidesign Sync I/O
Monitors
Boxer T5 3-Way Monitoring system
XTA DP226 crossover
Genelec 1032A (5)
Genelec 1094A sub
Bluesky surround controller
Aphex 228 8-channel audio interface
Yamaha NS-10 (2)
Chord 1032 power amp
Headphone Monitoring
Hear Technologies 8-channel Personal Monitoring system w/ 4 Remote Stations
Sony MDR-V600 Closed-Ear Monitoring Headphone (8)
AKG K-240 Open-Ear Monitoring Headphone (8)
Equalizers
AP1 550B EQ (2)
API 560 EQ (2)
Aengus graphic EQ (2)
Pultec EQP-1a EQ
Pultec EQH-2 EQ
Pultec MEQ-5 EQ (3)
Tube Tech PEQ1
Maselec 9001 EQ
Manley Massive Passive EQ
Focusrite Red 2 dual parametric EQ
Processing and Effects
Lexicon 480L (v.4.1) digital reverb
AMS RMX16 digital reverb
t.c electronic M6000
t.c electronic M5000
Ecoplate II stereo plate reverb
AKG BX20 stereo spring reverb
SPL Transient Designer 4
Yamaha Rev 7 digital reverb
Yamaha SPX90
t.c. electronic 2290 digital delay
t.c. electronic 1210 Spatial Expander/Flanger/Chorus
Lexicon Prime Time II
Tech 21 SansAmp
Neve 2257 Gates (2)
Drawmer DS201 dual gates (2)
Lexicon PCM 70
Eventide H3000D/SX effects processor
Eventide H949 Harmonizer
Lexicon PCM 42 (2)
Lexicon PCM 41 (2)
Mic Pres
Neve 1073 (2)
Neve 1066
API 512C (4)
Focusrite Red 1 quad mic pre-amp
Focusrite ISA 215
Telefunken V76
Telefunken V72 (2)
Telefunken V78 (4)
Universal Audio M610 mic pre-amp
Altec 438c mic pre-amp & compressor
Microphones and DIs
Neumann: M49, U48, U67, U87, U87Ai(3), SM69fet, U64i, KM54, M582(4), KM184(2), KMS105(2)
AKG: C12, C12A(2), C12VR, C426B, C414EB(2), C451EB(2), D25, D14, D12, D112(2)
Schoeps: M221b, CMT24, CMT44
Earthworks: QTC1(2)
Royer: R-121
Coles: 4038(2)
B&K: 4131(2)
Sony: 37p(2)
Electrovoice: RE20
RCA: 77DX
Sennheiser: MKH 405, ME6(3), MD421-III (4), MD441, 604E
Shure: Beta 87A, SM81(2), SM57(6), SM58(5), SM84(4), Model 55
Rode: NT2(2)
Crown: PZM 30D(2)
Octava: MC012(2)
Manley VTLTube DI
Music Valve Electronics Tube DI
Countryman: FET 85 direct boxes(5)
Compressors
Teletronix LA2A compressor
UREI 1176LN limiter - Black "D" (2)
UREI 1176LN limiter – Silver
UREI LA3 compressors (2)
Focusrite Red 3 dual compressor
Universal Audio 175 limiter
Manley Vari-Mu compressor
Chandler EMI TG-1 stereo compressor
Gates Sta-Level compressor
Empirical Labs EL8 Distressor (2)
Altec 438c compressor
DBX 165a compressor/limiter (2)
Manley hi-freq limiter/de-esser
Instruments
Yamaha C7 7'4" real grand piano
Kurtzwiel PC88 not so real grand piano w/ Korg Triton Module
Fender Precision Bass
Epiphone ES 335
Fender Stratocaster
Ampeg B15 & B-115 bass amp
Line 6 Flextone II amp
Fender Twin Reverb amp
Cello & Violin
LP Congas, Timbales, Bongos & Djembe
A big bunch of percussion toys, just about anything else you might want with a little notice...